Bye Bye Birdies
Well it snowed in Ithaca all day today. This makes painting the exterior of a house more like frosting a cake. I'm using a spatula. The good news is it's time to begin winter golf spending. If you are my wife, and you're reading this in the morning before work please do not pour freezing cold pickle juice into my ears while I am still sleeping. And if you are at work, you really shouldn't be spending your time angry at me.
The plan of attack is to first narrow down my purchases to the most important. I bought a 975J Titleist driver earlier in the spring. It's fantastic! It took me a couple of weeks to work out a hook and then a slice but towards the end of the season I implimented a strong shoulder turn that made all the difference. Since this shoulder turn I haven't been out drove and it's straight as can be. Nice low trajectory. I've marked a number of drives off at 285. There have been only a few that could have questionably been farther than that, so I'm not messing with my driver. I call her Maggie May. Maggie may go straight, Maggie may go right. I may not see Maggie again until May. This pains me so.
I bought a Cleveland BeCu Byron Nelson 56 degree wedge last year that I am entirely pleased with. It's a form of copper which is a softer metal. It allows for more spin. The low bounce feels comfortable and when I'm hitting ProV1's it affords me a good amount of spin from inside 50 yards. I chipped in only one time this season but it was with this club. I could use some work on my green side chips.
I inherited a Ping wedge that just happened to be exactly 50 degrees. I was in desperate need of a gap wedge. My Taylormade PW goes about 130 yards and the most I could get out of my Cleveland was 65 at best. This came towards the end of the season but from what I saw I liked it very much. It hits the ball very high in the air, with controlable spin.
I love my irons. I invested in my first new set two years ago. Taylormade 360's with the patented feel cartridge. They're great. I won't change these save for a miracle from the golf god's. You learn quickly to be very patient with these clowns.
My putting is amazingly bad. It blew my mind to be within 80 yds of the green after my drive and still end up with a seven. I could skull an approach shot, flip a flop shot putt off the green and then two putt back on. It doesn't seem possible. My brother-in-law bought me a putter last Christmas. it was a mallet putter, which I like, it was a Taylormade, which matched my set, it was center nozzled, which seemed cool at first, but all in all, it was bad news. It's a beautiful putter but putting is all about a personal fit and this just isn't it. A putter is the first thing on my agenda.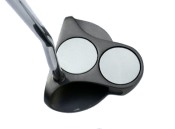 I really like the Odyssey two ball putter. They DFX came out last year and now they have a new putting line this year. I debated switch putting and buying a lefty but if I'm gonna drop a hundred bucks or so I should just get a right handed one. If I could find a Scotty Cameron putter for a good price I could be tempted to splurge, but they're tough to come by. I'm still debating between the mallet and the blade putter style. I have about six upstate NY winter months to decide.
I am also in need of a new bag. Probably Taylormade is the way to go. Their Taylite bag only weighs three pounds or something but I hit a Titleist driver and balls and I think they make a classy bag. That one is up in the air.
Also the Ping bag is the number one bag used in college and Ogio specializes in bag manufacturing so they may have been able to put a little more time into their design. I don't know.
I could use some new shoes as well. I knick-named myself Josh Clown Foot. The pair I bought five years ago are still a size and a half to big on me. I guess at the time I thought I still had some growing to do. My brothers are 6'4" and 6'1" respectively by age and my father is 6'2". I thought at twenty I still had a chance to break that 6'0" barrier. I suppose what I lack in height I make up for in spelling and typing skills.